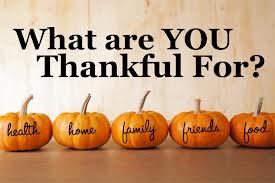 In America, all attention is on our celebration of Thanksgiving this week. It's a traditional time for family, food and football. It's also a celebration to remind us to practice gratitude and appreciation for everything in our lives.
Here at Healthy Companies, we are grateful for YOU –  The Healthy Leader subscribers.
Here's why…
To our readers:
Despite intense work days, countless interruptions to your hectic schedules,  you spend 10-15 minutes twice a month reading and absorbing The Healthy Leader. We appreciate your gift of time.
To our forwarders:
Caring about sharing knowledge, you forward The Healthy Leader to others, and some of them subscribe. There are some things in life that are priceless. Word of mouth support is one of them. We appreciate you telling your staff, peers, boss, friends and family about The Healthy Leader.
To our recommenders:
On Twitter, LinkedIn and Facebook, you share and recommend The Healthy Leader to your followers and friends. Your vote of confidence is very much appreciated.
To our updaters:
When you change companies or change your email address, you re-subscribe or update your subscription. As an email newsletter publisher, there is no higher compliment. Thank you.
To our feedbackers:
Feedback is a gift. You only do it because you care. So whether it is criticism or a compliment, we love it. Thank you for your taking your time to give us your input.
To our international subscribers:
We have clients and subscribers on every continent. We appreciate all our international subscribers, many who are reading The Healthy Leader in a foreign language.
You are helping us create a community of leaders transforming business, one leader at a time. To show our appreciation, we at Healthy Companies want to send you Bob Rosen's new book, Grounded, as a way of saying thank you. Complete the form to receive a first edition copy of the hard cover book.
Wishing you a Healthy and Happy Thanksgiving holiday!