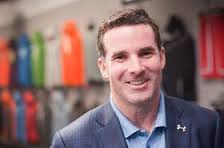 This week's Grounded Leader understands the importance of purpose. When he started Under Amour in 1996, Kevin Plank knew he needed to rethink how we design athletic wear. With the purpose of improving athletic performance, he engineered clothing that would liberate the wearer from the weight of accumulated moisture from perspiration.
Once the company's products were ready for market, his team's purpose became selling those products. Plank notes that Under Armour is a slogan-based company. "Overpromise and deliver" and "Walk with a purpose" are common themes. But in the end, the slogan that matters most is "Don't forget to sell shirts and shoes". Or, as Plank puts it:  "We get caught up in lots of other things…but our company rings the register and we build profit when we sell lots of shirts and shoes."
The company's success is allowing Under Armour to extend its purpose beyond building that profit. As a company, Plank says, "We like to say that, when we do well, we can do good." Their sense of purpose is evident in the good things they do in their local communities. Projects include renovating playing fields for public high schools and sponsoring Fight Night, whose mission is to ensure low-income children have access to quality education. And just this week, Plank pledged $25 million for the renovation of Cole Field House at the University of Maryland, his alma mater. As one school official noted, Plank's donation will go a long way:  "Having him coming up with that kind of money gives you the leverage to come up with the rest of it…Kevin set the example and others will follow."
Kevin Plank is our Grounded Leader of the Week for the purpose he brings to every aspect of his leadership, and especially for his commitment to improving lives and communities by leveling the playing field for young students and athletes. That's a higher purpose we can all stand behind — and root for.