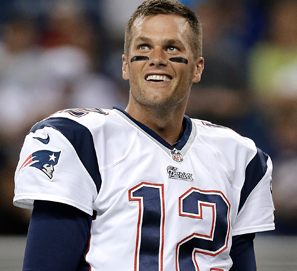 Key Lesson:  Be open to new ways of approaching and achieving your goals.
As starting quarterback for the New England Patriots, Tom Brady led the team to four Super Bowl wins. But that's not the only thing that's come out of his 15 season career with the NFL. With three MVP titles, he's now tied as the greatest quarterback of all time.
Though starting off in high school as an average player, Brady has risen to top-of-the-league by constantly pushing himself to get better at his sport. He works on his skills, muscles and endurance — sometimes in unconventional ways — to be the best he can be. Working with a former major-league pitcher and pitching coach, he refined his throw technique to dominate in passing. His partnership with Alex Guerrero, a fitness guru with a master's degree in traditional Chinese medicine, who's known for "re-educating muscles" and "prehab" at his successful TB12 Therapy Center, has influenced Brady to stay "physically fit, emotionally stable and spiritually sound." Surrounding himself with the best of the best and consistently learning new and unorthodox ways to keep himself in peak performance has paid off. His childhood idol, Joe Montana, has said that Brady is in the class of "greatest to ever play".
According to Brady:  "Whether it's one win or one loss, you just try to get better and make improvements, and you've got to play your best at the end."
Tom Brady knows that keeping his mind and body in top condition is a requirement of his career, but he lives it like it's a requirement for life. In acknowledgement of his resilience and his commitment to improvement in all areas of his life — and, yes, for those Super Bowl wins, too — Tom Brady is our Grounded Leader of the Week.