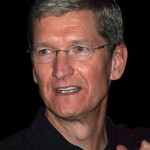 Growing up in Alabama in the 1960s shaped this man. Witnessing a cross burning first hand as a child left deep scars, but also awakened a deep sense of appreciation for human rights and respect for differences. It is this legacy that drives Apple CEO Tim Cook. Recently, Cook accepted a lifetime-achievement award from his alma mater, Alabama's Auburn University, during a ceremony at the United Nations headquarters in New York City. In his acceptance remarks, he described his own struggle with discrimination and his personal commitment to equality in the workplace.
httpv://youtu.be/dNEafGCf-kw
Cook is a very successful business leader because he practices Grounded leadership.  His magnetic north is to search for what is just and right rather than what is simply financially expedient. An example he cites is his (and Apple's) strong support for the Employment Non-Discrimination Act to further workplace respect for human dignity, honesty, and equality. He exemplifies strong spiritual health – higher purpose, global connectedness, generosity of spirit and that is why he is our Grounded Leader of the Week.