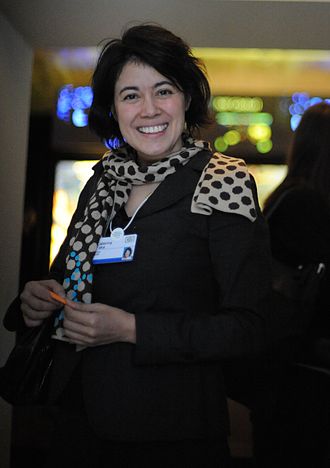 Key Lesson:  It's an incredible time in the history of business to start a business. Get started with what you've got, from wherever you are.
Caterina Fake is a new media rock star. Her passion for art, story telling and inspiring others has driven her career. Along the way she has built some really successful companies.
Fake is a serial entrepreneur.  She co-founded two start-ups, Flickr and Hunch, both selling to the big boys — Flickr to Yahoo and Hunch to eBay. Today, Fake is on her third venture, Findery. The company's  mission is to help people "tease out local knowledge, hidden secrets, stories and information about the world." The Findery team also believes that "people are gaining a new appreciation for the here and now…for the people in our neighborhood…for groundedness." We couldn't agree more.
What Fake touches seems to turn to gold. Probably because she finds ways to make technology more human. Her signature mark is participatory media. Online community, social networks, personal publishing, blogging, and self-expression on the Web are her interests. Fake's businesses tap into the Zeitgeist of our time. They find the sweet spot between art, community, and technology. Fake delivers social solutions that facilitate connections to other people — and with other people — that you wouldn't otherwise be able to find.  She describes it as, "That sense of 'wow,' that manna-from-heaven feeling … when you discover somebody else who feels the same way you do, say, if you're the lonely gay teenager in Indiana. All those people looking for connection, that perennial human desire. It's just insatiable."
Fake is also a player in the investment world. She was an early investor in Etsy and is currently Etsy's Chairman of the Board. Her advice to entrepreneurs? "You pick a big, ambitious problem, and look for great people to solve it … It's all about the people, frankly." Another piece of advice, "There's all this noise, the tech-crunch, which you have to tune out if you want to build good product."

Fake's personal experiences online over the past twenty years have helped fuel her passion to make the Web more people-centric. In her typical story-telling fashion, Fake confirms that, yes, her name, Fake, is real. In press interviews she is frequently asked about it, answering by sharing various name related woes. Cancelled plane reservations, for example, or the struggle to get a Facebook account because the system kept rejecting her name.
Caterina Fake is our Grounded Leader of the Week for her vision and dedication to finding new ways for people to connect,  and for her leadership and long-time commitment to making the Web a place for community, connection and inspiration.