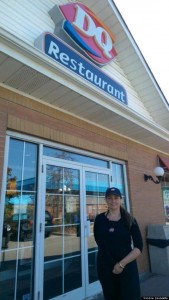 Key Lesson: Sometimes the smallest gestures have the biggest impact. 
This week's Grounded Leader is Yvonne Lavasidis, a Dairy Queen owner in Markham, Ontario, Canada. Lavasidis unexpectedly received a letter in the mail thanking her for her kindness and support during one of her employee's studies. The letter has since gone viral and has been reported in various online news outlets, such as the Huffington Post, ABC, and Fox News.
Little did Lavasidis know that her support for her student employees would have such an effect, she is now aware that even the smallest of gestures can make a huge impact on another's life. Instead of being a manager who only sees employees as workers, Lavasidis sees the whole person and gets to know her workers, even cooking out in the back and hosting appreciation barbeques.
"There are so many kids just like her, all of whom I hope find success, all of whom have so much potential." she tells Today. She could not have known at the time of allowing her student employee to study in the back of the store for her MCATs, that she could have such an effect on her employee, or the world. A great leaders' purpose is to help others achieve greatness; they enjoy helping and giving of time and energy to help others reach success.
Yvonne Lavasidis is our Grounded Leader of the Week for giving her employees the opportunity to grow and thrive in their chosen worlds. Nourishing her community and the lives of those around her, Lavasidis has discovered that an act of kindness can have far-reaching effects.