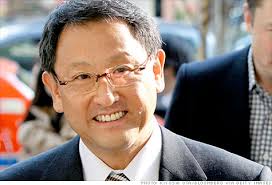 Key Lesson:  Innovation is often about addressing immediate needs, but sometimes taking the longer view can be just as exciting.
This week's Grounded Leader, Akio Toyoda, has weathered a lot of storms since becoming CEO of Toyota Motor Company in 2009. Large scale recalls, the global recession and Japan's devastating 2011 earthquake have all happened on his watch. And while Toyoda has done an admirable job of shepherding his company through tough times (2014 earnings are projected to be a record $18.2 billion, which is more than GM, Ford and Honda combined), we're particularly impressed with his ability to keep his focus on the future.
According to Toyoda, part of that future includes doing more than just manufacturing and selling cars:  "The automobile industry can contribute to the sustainable growth of earth itself…At Toyota, we are looking out 50 years and even more decades into the future." Toyoda is banking on fuel-cell technology as the "ultimate environmentally friendly car" and the recently introduced Mirai is the company's first hydrogen-powered vehicle.
Adding to Toyoda's business acumen and strategic thinking is his humility. In 2010, he made an emotional apology when testifying before the U.S. Congress. He accepted his company's role in the recall crisis, and attributed their lax standards to the firm's rapid growth. Even before being called to testify, he noted that the company had fallen victim to "the hubris of success" and the "undisciplined pursuit of more."  These were strong words coming from the leader of a company that values its traditions, and rarely — if ever — criticizes it elders.
Akio Toyoda is our Grounded Leader of the Week for bringing much-needed humility to his role as CEO, and for his ability to see beyond the here and now — and for creating a vision of the auto-industry as a contributor to global sustainability.