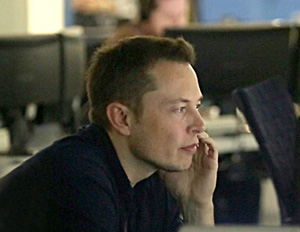 Holiday travelers may have trumped SpaceX's launch plans this week, but this sort of setback is part of a day's work for it's CEO, Elon Musk. In a recent Washington Post interview, Musk shared his anxiety about the Falcon 9 rocket launch, explaining that with a launch:  "You can't issue a recall or do a patch…You either get it all right or you're screwed."  He understands what it takes to achieve something remarkable. The first three Falcon launches failed.
Musk's first entrepreneurial success was PayPal, the (almost) ubiquitous online payment system. Once PayPal was sold to Ebay, he turned his sights on an even bigger frontier for commercialization–space. In 2002, he founded SpaceX with a dream of going to Mars. SpaceX looks on track to make that happen. But Musk only works part-time for SpaceX. He's also the CEO of Tesla, the highly acclaimed and innovative electric car company.
Musk thrives on the intellectual and the adventurous. His willingness to fail ultimately allows him to win. His unique qualities as a dream-weaver and a visionary–along with his ability to bring his employees and others along for the ride–make him this week's Grounded Leader of the Week.