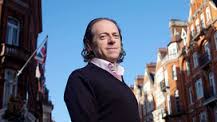 For most family and closely held businesses, planning for the next generation of leadership is the toughest and most critical challenge they face. But that's not a problem for Julian Richer. He's handing over his company, Britain's largest independent chain of hi-fi shops, to … his employees!
This week, Richer announced, "My life's work is my legacy and I haven't got a spoilt child to run the business." He will entrust his company, Richer Sounds, a chain he founded 35 years ago, to the company's employees. Richer opened his first store in 1978 at the age of 19 and is considered one of the brightest entrepreneurs of his generation.
Employee-owned companies are relatively rare in the UK according to the Financial  Times. So Richer's decision is even more notable. Because he embodies the characteristics of – generosity, authenticity, positive emotions, engaging and motivating his staff – Julian Richer is our Grounded Leader of the Week.