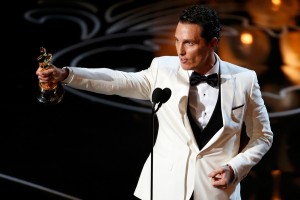 Matthew McConaughey's Best Actor acceptance speech at the Oscars this month continues to generate buzz. Within minutes of the speech,  the blog sphere was all a twitter about his introspective speech, his lengthy thank yous and his expressions of deep gratitude. Within a few days, parodies were showing up on Saturday Night Live and YouTube.
All right. All right. All right.
McConaughey's use of this Dazed and Confused iconic quote brought the house down Oscar night and will probably be the most memorable part of his speech. But McConaughey explained himself during the press conference immediately following his Oscar award, shedding light on his introspective speech. For him, the journey of making the movie, Dallas Buyers Club, was not just the culmination of a hard won fight to make the 137-times-rejected-script into an Academy Award winning film. It was the gratitude he felt for being part of a meaningful calling saying "It's not my job, not my hobby … it is my career."
At a time of great celebration and praise, McConaughey acknowledged the importance of vocational health and spiritual health to his career. It is for this reason, he is our Grounded Leader of the Week.
Key Lesson:  Open your heart to expressing gratitude and benefits will accrue. Others respond in kind, and entire communities and cultures are uplifted when people encourage what is best about them.
httpv://youtu.be/GuSObJtPj-w