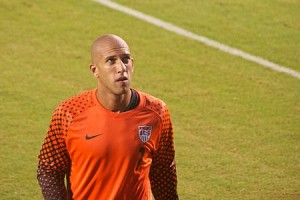 Key Lesson: Manage your emotions. If you fall down, get up and keep going. Stay centered and focused on the job.

Even the captain of the opposing team had to pay homage to our Grounded Leader of the Week. After the World Cup's Belgium – USA game this Tuesday, Belgium's team leader, Vincent Kompany, publicly paid his respects to Tim Howard on Twitter. Kudos well earned.

As the World Cup  record holder of 16 saves in a single match, this seasoned and experienced USA goalie attributes his performance to being able to manage his emotions: "I don't really get too high or too low."  Howard has learned to lock himself into the present moment when guarding goal. He does not obsess with mistakes or errors. He does not look back with regrets. He is fiercely competitive but channels that competitive spirit into the right moments. Despite often cruel and harsh treatment by fans and the press, Howard has told reporters: "I am unmoved by ridicule."
Howard's ability to focus in the moment, get the job done and move on is certainly enviable. What is remarkable, however, is that this world-class goalkeeper copes with Tourette syndrome — a neurological disorder that made him a target for teasing even as his stature as a player grew. Diagnosed as a child, Howard's ability to overcome and deal with this condition on a daily basis has made him a stronger person and a stronger leader. Howard considers his biggest achievement the fact that he did not allow himself to be restricted by the disorder and continued along his chosen path in soccer. Though Howard has only recently been designated America's soccer hero, for people and families coping with Tourette Syndrome, he has long been a hero and role model. Today, he says, "one of the biggest things I can do [for Tourette's awareness] is be in the public eye…I'm on television, ticcing and twitching. I think that's kind of cool."
Every leader has something to learn from Tim Howard. The grueling schedule of the World Cup showed us his physical health. But what makes Tim Howard our Grounded Leader of the Week is his emotional health. His self-awareness, positive emotions and resilience were prominently displayed on the 2014 World Cup soccer fields when the USA competed. There for us to watch and learn from.
httpv://youtu.be/b_ZW1Oeykwc