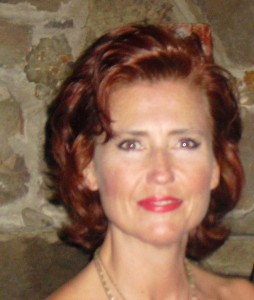 Key Lesson:  When catastrophe strikes, you choose whether to get demolished or not. Have the presence of mind to calmly assess the true nature of the problem. It will help you overcome obstacles or traumatic situations in life.
Our Grounded Leader this week is at war with the dark side of humanity. Kimberly L Smith is the co-founder of Make Way Partners, a non-profit Christian mission agency committed to preventing and stopping human trafficking and all forms of modern-day oppression.
Kimberly L. Smith came to our attention this week via the Huffington Post story and interview about her experiences working in Darfur.   Smith and her husband opened the first orphanage on the border of North and South Sudan at the height of the Darfur crisis. It was during this time that Smith experienced several personal attacks. In the HuffPost video interview, Smith shares details about being beaten and raped during one of those incidents. While her story is emotionally charged for obvious reasons, Smith's response to the attack is truly transcendent. Rather than retreat, she emerges not only with her courage and passion in tact, but with a renewed compassion for those who are locked in a circle of evil – or what she identifies as the "collective psychic trauma."
Smith wrote a book, Passport Through Darkness, describing her journey to Darfur. Leaving a safe job in Corporate America in hopes of finding a meaningful calling, she and her family began traveling the world only to discover the atrocities of human trafficking. As she explains it, it was as if she woke up. Smith says she transformed her self-centered life into an international effort to save thousands from modern-day slavery, persecution, disease and genocide. In spite of being personally attacked and violated, Smith continues to lead the daily operations of Make Way Partners and divides her time between each ministry location while she raises funds, blogs, tweets and speaks throughout the United States.
Smith's personal calling puts her in harm's way on a regular basis. Yet pursuing that calling allows her to be what she wants to be – a devout missionary fueled by compassion and driven by a desire to address grotesque injustices. Today, her agency leads a powerful, indigenous based anti-trafficking network spanning South and North Sudan, defying skeptics along the way. For Smith, there is no political solution to these crimes against humanity. The solution is building the next generation of peacemakers who will stop the circle of evil and start honoring the dignity of each and every person.
Smith continues to work and live in the place of her personal trauma, not only deeply understanding what the women of Sudan face each day, but with passion and compassion to fulfill her life's mission. This week's Grounded Leader of the Week is Kimberly L. Smith.