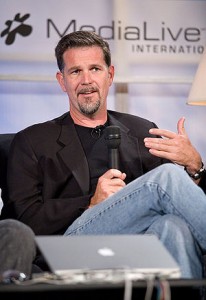 Key Lesson: Don't lie to yourself. Be emotionally detached from outcomes. Detachment is a safety valve, making sure your emotions don't carry you away.
This week's Grounded Leader is a creative disruptor. His mission? To turn his company into the Internet's first television network. Reed Hastings continues to surprise and shock Hollywood and the TV industry.
Since co-founding the company, CEO Reed Hastings has transformed Netflix three times to respond to changing technology. Netflix has gone from mail-order DVD to streaming video to original content provider. Essentially, Netflix went from shipping service to TV studio in a very short period of time. There are bumps in the road for every company, however, and Netflix is no exception.
In 2011, Hastings was skewered on Saturday Night Live for his decision to split Netflix in two. The streaming content side would be called Netflix, and the DVD side would be called Qwikster. This time for Hastings and Netflix is referred to as the 'nuclear winter' with the loss of 800,000 members, the press calling for Hastings' resignation and the stock plummet from $298 a share to a low of $53 a share. Dartmouth's Tuck School of Business tagged Hastings the "second worst CEO of 2011".
It took Hastings until 2013 for his detractors to call him a visionary. With his bet on House of Cards and Orange is the New Black paying off, Netflix is now touted the creative darling of original programming.  Despite his recent success, Hastings is walking a tightrope that perhaps only he can manage.  On the one hand, he is at the center of the net neutrality storm. On the other hand, he is maneuvering a complex friend-and-foe relationship with cable companies. Hastings thrives and is energized in this paradoxical world of creative programming and technology.
When asked how he keeps getting back up when he falls down, Hastings does not hesitate. He attributes his ability to bounce back to the marriage counseling he and his wife experienced over twenty years ago. He claims it made him a better leader by learning not to lie to himself (or his spouse). Hastings also believes it is his willingness to live along the edge, to embrace uncertainty and live with optimism that allows him to continue as a creative disruptor.
Reed Hastings is our Grounded Leader of the Week for his adaptive and paradoxical thinking and his resilience.
Reed Hastings Talks About Falling Down and Getting Up
httpv://youtu.be/ovinzcUxioA