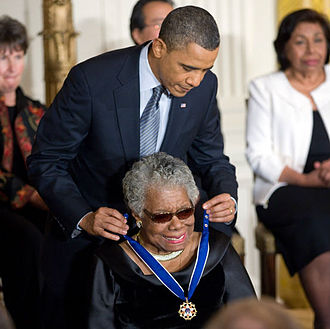 Key Lesson: Shape your own destiny. Create a future focused mindset. Imagine the possibilities of what you can become as a healthy, grounded person.
Asked by Harvard Business Review:
"As someone who's known Martin Luther King Jr. and Malcolm X, Bill Clinton and Barack Obama, what do you think makes a leader great?"
This week's Grounded Leader responded:
"A leader sees greatness in other people. You can't be much of a leader if all you see is yourself."
Maya Angelou died this week at the age of 86. During her long life she became a national treasure, a celebrated novelist, poet, educator, actress and activist. She is one of the most honored writers of her generation. With 65 doctorates from all over the world, she taught in French, Spanish, and English. She shaped her eclectic work life into a career of mentoring and influencing many of today's leaders, i.e., Oprah Winfrey and Barack Obama. Most of all, she has touched more lives than one could count with her writings, teachings, and inspiring life. The world has taken to social media, print, and events to celebrate her long, radiant life as a phenomenal woman.
Angelou spent her life sharing herself, storytelling, in addition to fighting for equality, tolerance and peace. Her message to leaders, to everyone, is  to act and to be better: "You'll be surprised at how much better you will feel," she said. "And good done anywhere is good done everywhere."
Maya Angelou's generosity of spirit, her drive to succeed and her self-awareness make her our Grounded Leader of the Week. Her commitment to life-long learning, her ability to engage the hearts and minds of others, her relentless search for courage and truth allowed her to stand by her principles. Her advice to leaders: "I am convinced that courage is the most important of all the virtues. Because without courage, you cannot practice any other virtue consistently. You can be kind for a while; you can be generous for a while; you can be just for a while, or merciful for a while, even loving for a while. But it is only with courage that you can be persistently and consistently kind and generous and fair." 
httpv://youtu.be/R-3MH_H_ySI