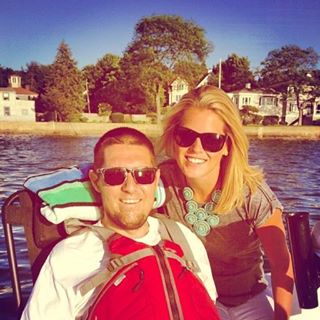 Key Lesson: Exploit people when you can. Dare people to do the right thing. Don't be fearful of controversy and keep the spirit of your higher purpose front and center.
It's summertime and the living's easy. Well, not so easy for this week's Grounded Leader, Pete Frates. The former Boston College baseball captain and professional baseball player in Europe was diagnosed with ALS in 2012 at the age of 27. He is now wheelchair bound, relies on a feeding tube and is unable to speak. But that has not stopped Frates from creating an out-of-the-ballpark home-run fundraiser for ALS – The Ice Bucket Challenge.
Frates' disease progression may be ravaging his body but his intellectual prowess has not been affected:  "Inside I'm as sharp as ever — if not sharper than I've been" Frates says in his video (below). "Because when you sit and can't really move, when you're observing all day … you notice every little thing. My memory has gotten better. I just notice things I didn't notice before."
One of the things he noticed was the need to raise ALS awareness as well as the funds crucial to battling the disease. And like most great leaders who recognize problems and the need to do something about them, he jumped into the fray. In his blog post on Huffington Post, Frates talks about channeling his hero and inspiration, Lou Gehrig, to keep up the fight against the ALS beast. Frates also acknowledges that the disease has led him to find his mission and purpose in life – to be the spokesman in our fight against ALS.
Armed with his sharpened intellect and sense of higher purpose, Frates then showcased his positive emotions and authenticity by creating the year's biggest viral hit:  Take a bucket of ice water, dump it over your head, challenge others to do it or make a donation, record the whole thing and post the video on social media.
Most likely inspired by the sports tradition of dumping a cooler of ice liquid over the head of a coach following a meaningful win, Frates started his grassroots challenge in Boston. It is now on fire on social media channels. There have been over 2.6 million ice bucket challenge videos posted to Facebook in the past few weeks. The list of  celebrities who have not taken the challenge is getting very short. The challenge has trended for days on Facebook and Twitter with videos from Mark Zuckerburg, Bill Gates, Lady Gaga, George W. Bush, Elon Musk, Tim Cook, Martha Stewart, Matt Lauer, the Foo Fighters, etc.  The ALS Association is reporting it has raised more than $41 million and pulled in more than 700,000 new donors. Compare those numbers to their fund raising last year at the same time and you can see what a phenomenal thing Frates has done.
Pete Frates is our Grounded Leader of the Week for pursuing a life of purpose and meaning in the face of seemingly insurmountable, personal obstacles. His generosity of spirit and his focus on a higher purpose has touched the hearts of millions of people who had never heard of ALS.  His legacy will live long, much like that of his hero, Lou Gehrig.
Pete Frates' Story
httpv://youtu.be/85VkgNt5OgI