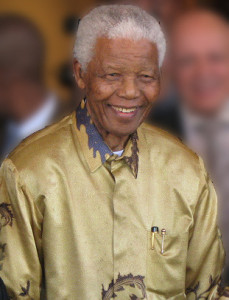 Most leaders are measured by what they do in the world – their accomplishments and achievements, and their successful campaigns and enterprises. Nelson Mandela will be remembered for something very different and much more fundamental. We will remember him for who he was as a human being. In the words of fellow Nobel Peace Prize laureate, Aung San Suu Kyi, Mandela helped us "change the world by changing attitudes, by changing perceptions. For this reason, I would like to pay him tribute as a great human being who raised the standard of humanity." We, at Healthy Companies, couldn't agree more.
In the end, it was Mandela's unique and unflagging character that defined him as a healthy and grounded leader – a leader whose influence spanned nearly eight decades, and who inspired the rich and poor, the black, white, and brown, CEOs and politicians, neighborhood kids, hardened capitalists and committed socialists. This broad appeal was based on Mandela's essential goodness, and the lessons that goodness taught us.
In fact, Mandela may be the foremost exemplar of this paradigm in our lifetime. Rather than focusing on results, it starts with his six roots that form the foundation of healthy leadership, essential qualities that Mandela embodied. This is why he is our 2013 GROUNDED LEADER of the YEAR.