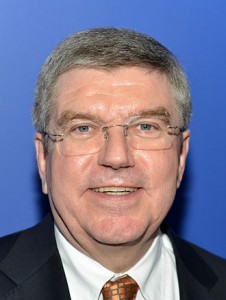 The Olympic Winter Games in Sochi were a success thanks, in part, to IOC president Thomas Bach. A German fencing Gold medalist (1976) turned lawyer and business executive, Bach's quiet leadership is reaping him accolades across the sports world and among the media.
Developing productive relationships with the Russian hosts was key to making the Games successful. Even though Bach is highly complimentary of Putin's role in running the Games so smoothly, he also made certain that the Olympic Charter rule on non-discrimination was fully respected by the Russians. At the opening ceremonies, Bach made a strong statement against discrimination in favor of tolerance. After the closing ceremonies, Bach was quoted saying: "I've never experienced a situation like this where not a single athlete had a single complaint." Here is a great interview of Bach with NBC Sports' Bob Costas.
Bach held true to the principles of the Olympic spirit. His commitment to the greater good and his ability to forge a shared direction guided the world event to success. For tapping into a higher purpose, championing diversity and tolerance while denouncing discrimination on the world stage and executing a very well-run Winter Olympics, Thomas Bach is our Grounded Leader of the Week.
Key Lesson: Being a healthy leader helps you to prioritize your actions and do the right things, regardless of the pressures you encounter.