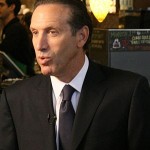 Key Lesson: Step up and demonstrate leadership. Don't wait for others to solve your problems.
Our Grounded Leader this week has earned a reputation as a business savant and a progressive executive. Starbucks' CEO, Howard Schultz, is not afraid to speak his mind or scoff at prevailing Wall Street wisdom. He has been known to …
dress down a shareholder who questioned the company's support of gay rights
tell a board member to sell his shares if he didn't like the fact that Starbucks spent over 300 million on healthcare benefits for full-time and part-time employees
give stock options to everyone in the company
at a critical point financially (and against his team's advice) take 10,000 store managers to New Orleans (at a cost of $30 million) to perform 50,000 hours of community service (before their leadership conference), to remind people of the character and the values of Starbucks
globally expand into unlikely coffee lover markets like Vietnam and India surprising his critics
adopt early and have the courage to innovate with simple technology; in 2009 Starbucks launched its mobile card app … today more than 11% of sales volume comes through its own mobile wallet.
His most recent leadership adventure? He has brewed up his own tuition deal. Schultz is "not waiting for Washington," not waiting on Congress to solve the student debt crisis. He went out and made a partnership with ASU calling it the Starbucks College Achievement Plan. Starbucks will provide full tuition reimbursement for any of the company's 135,000 U.S. employees enrolled as juniors and seniors, each time they complete 21 credit hours. Starbucks believes this benefit will strengthen their partners/employees pride in working for the company translating into better customer service and profitability.
Howard Schultz is our Grounded Leader for his bold, courageous leadership in employee and customer advocacy especially during tough financial times. He stays true to himself and the Starbucks brand, keeping his commitments to higher purpose time after time.
Schultz on The Daily Show
httpv://youtu.be/QL7zaXo-zBE