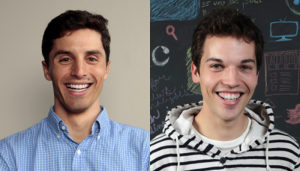 They are New Media Rockstars, a quintessential Gen Y entrepreneur story. It goes like this … met in college, graduated, got jobs they quickly grew bored with, then decided to do what they loved – argue politics. From this passion came PolicyMic, a news and opinion site targeted at Millennials (think Slate meets BuzzFeed and Upworthy). Their goal is to make shareable smart content with shareable being the operative word.
This week we have selected two business partners as the Grounded Leader(s) of the Week: Chris Altchek and Jake Horowitz, founders of PolicyMic.com.
The two-year old start-up has already attracted venture capital and backers, roughly $4.7 million in funding. In January, Altchek and Horowitz  earned spots on Forbes' latest 30 Under 30 list.  They are promising young talent in the current chaotic media business, figuring out how to make a difference while building (not climbing) their own ladder.
Passionate about creating a digital media model that disrupts the media we currently know, coupled with a drive to succeed makes Altchek and Horowitz our Grounded Leaders of the Week.
Key Lesson:  Successful leaders derive great satisfaction from the struggle itself.  Pursuing the goal can be as fulfilling as achieving the goal.