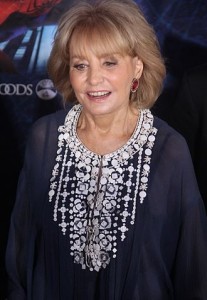 Key Lesson: Ask yourself regularly – what is my desired legacy? The answer will help you make the right decisions about your leadership and your career goals.
To get a sense of what her early work life was like, just watch innocent-turned-career-savvy Peggy Olson on Mad Men. In fact, much of Barbara Walters' career parallels the Mad Men character, so much so that Walters has even been pegged the original Peggy Olson.
But Walters is a real life female pioneer in the world of television. She is an 'idol' to many and a positive influence on shaping women's careers. Oprah Winfrey told Walters: "You're the reason I wanted to be on television. You shattered the glass ceiling for so many women." America watched as Walters transformed herself from working girl to working mother to working woman to elder stateswoman of journalism.
This month, instead of being in the news for a high profile or groundbreaking  interview, Walters is herself making headlines for her retirement. Her daytime show, The View, hosted an unprecedented array of talent to pay tribute to Walters.  Even Hillary Clinton walked on stage to show her appreciation to the TV icon.
Barbara Walters' drive to succeed makes her our Grounded Leader of the Week. "To feel valued," Walters said, "to know, even if only once in a while, that you can do a job well is an absolutely marvelous feeling." Her commitment to personal mastery, to keep pushing to perform better, made her the role model for a generation of women in media. Her legacy will live long.
A Sisterhood of Women Pay Tribute
httpv://youtu.be/GazYTkGWDrI