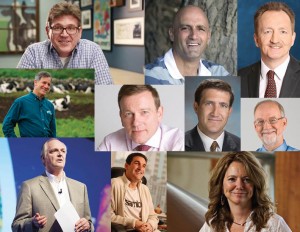 Key Lesson:  Solutions to some problems transcend competition — and demand a unified approach.
Earlier this week, the CEOs of ten global food companies — many of them longstanding competitors — released a joint letter calling upon world leaders to act swiftly and decisively to address climate change. The letter was the focus of a bipartisan U.S. congressional hearing attended by a number of the signatories, and specifically called for concrete steps to be taken during the upcoming COP21 climate change negotiations in Paris.
Though asking political leaders to act, the food company CEOs also reaffirmed their own commitments to curbing climate change. They pledged to accelerate their own efforts in working toward sustainability, to advocate achievable, enforceable science-based carbon reduction targets, and to share their best practices so that other companies can learn from their experiences.
Recent reports by the Intergovernmental Panel on Climate Change (IPCC) show that climate change has already begun to disrupt global food supplies, leading to sharp price increases and social unrest in vulnerable parts of the world. Crop yields are suffering, especially wheat, which is sensitive to changes in temperature. By 2030 negative impacts are expected across a wide spectrum of crops in both arid and non-arid regions. Changes in temperature and rainfall patterns could lead to food price hikes as high as 84% by 2050, according to the IPCC.
"Bold action on climate change is urgently needed and simply makes good business sense," said Paul Polman, CEO of Unilever and a signatory of the letter. "We are deepening our efforts to create transformational change to eliminate deforestation and working to lower our greenhouse gas impact.  Businesses have a responsibility to act but we can't do it alone. Consistent and credible government policy signals are essential, which is why we are urging political leaders to take action."
Other CEOs who signed the letter include Grant Reid (Mars), Jostein Solheim (Ben & Jerry's), Kendall Powell (General Mills), Mariano Lozano (Dannon), John Bryant (Kellogg), Kevin Cleary (Clif Bar), Paul Grimwood (Nestlé), Esteve Torrens (Stonyfield Farm) and Kimberly Jordan (New Belgium Brewing).
Collectively, these chief executives are our Grounded Leaders of the Week for their commitment to sustainable food production and business practices, and for knowing when to set aside their sense of competition in favor of the public good.