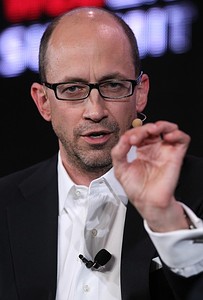 Our Grounded Leader of the Week started out as a stand up comedian. He then went on to found a company called Feedburner which was acquired by Google in 2007.  He is a leader who can deliver a punchline, and he did just that last week when he won CEO of the Year at the 7th Annual Crunchies Awards. He faced stiff competition from an elite group of tech CEOs:   Amazon's Bezos, Yahoo's Mayer, Uber's Kalanick and Tesla's Musk.  2013 was a great year for Twitter and for its CEO Dick Costolo.
Costolo lives by his leadership creed:  "Managing by trying to be liked is the path to ruin."  He attributes his success as CEO, especially as a tech leader in Silicon Valley, to the two simple rules he follows. And one involves paradoxical thinking — the ability to hold two opposing ideas in mind and still be able to perform.
1. Be yourself. There are many paths to success.  Find your own individual superpower and use it to lead others.
2. Care deeply about your people, while not worrying about what they think about you. (The paradox!)
Because parodoxical thinking is at the core of  his management philosophy, and because he's always present with his team and ensures that he communicates effectively,  Dick Costolo is our Grounded Leader of the Week.
Key Lesson:  Knowing your core paradoxes — the feelings and thoughts that create a vibrant tension within you — is the beginning of expanding your leadership repertoire.
httpv://youtu.be/NanvM8POdaY