In a hyperconnected world, information is available to everyone and collective intelligence is the true source of value. Organizations of the future must move from hierarchies to networks. This will require deep collaboration, self-managing teams, and healthy partnerships, inside and outside the organization. 
What do our organizations require to build Collaborative Networks in our rapidly changing world?
NETWORK ORGANIZATION

– The new organization structure must 

redistribute power throughout the system, and foster networking, information sharing, and high-performance teamwork.
COLLABORATIVE TEAMS

– Smaller, diverse, creative and collaborative teams 

will need to delegate responsibility, empower employees, and tap into their complementary talents.
DISTRIBUTED POWER

– Leaders at all levels must give up their parochial 

self-interests for the good of the group. Moving from I to We, this more democratized workforce will drive value.
BOUNDARYLESS WORK

– Working on virtual networks and borderless 

projects will necessitate greater trust and accountability and mutual respect for diversity and inclusion.
HEALTHY ECOSYSTEMS

– Connecting business units and functions will 

foster internal synergies, while partnerships and strategic alliances will connect organizations to a wider universe.
To achieve collaborative networks, we need leaders and people who have a collective sensibility. Starting by being mature and predictable, people must learn to share knowledge, make and keep their commitments, be civil and generous, and to step up and be accountable to others and the business.
"The meeting after the meeting is the REAL meeting these days. We use an intranet of people and ideas that crisscrosses the company. Tapping into this collective intelligence is key to changing the culture within General Motors."
—Michael J. Arena, Ph.D.
Former Chief Talent Officer, General Motors and current V.P. Talent & Development at Amazon Web Services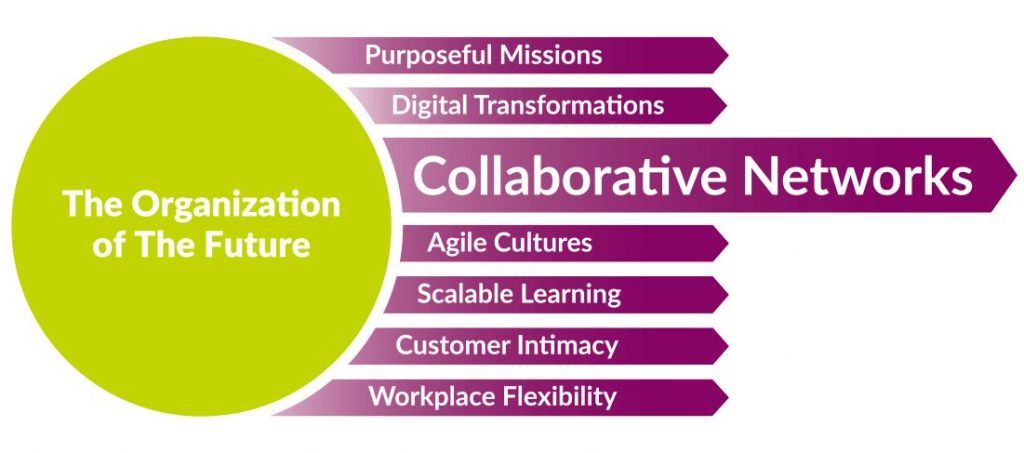 ---
About the Author:
Bob Rosen, CEO, Healthy Companies and Best-selling author of Grounded, How Leaders Stay Rooted in an Uncertain World and CONSCIOUS, The Power of Awareness in Business and Life.
Healthy Companies helps CEOs, executive teams, and managers build and transform high-performance enterprises through consulting, coaching, and learning solutions. If you would like to learn more about becoming an Organization of the Future, please connect with us!