This week we salute Dan Rockwell for his Grounded Leadership online.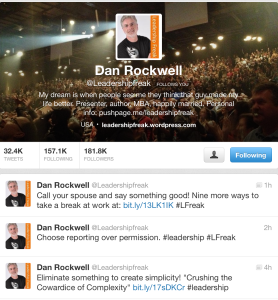 Everyday he is sharing, guiding and directing people to learn about leadership.  His Twitter handle (@LeadershipFreak) and tagline (helping leaders reach higher in 300 words or less) say it all.
Dan exemplifies the characteristics of social health* – transparent, intimate and collaborative – as he helps others grow themselves by creating mutually rewarding relationships online. In this new media world of ours, he is setting the social media example for those of us in the business of leadership.
Be sure to follow Dan on Twitter and read his blog!
*Social health is one of the roots of healthy leadership outlined in my upcoming book, Grounded: how leaders stay rooted in an uncertain world.
click picture to enlarge