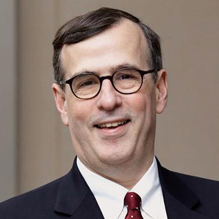 Key Lesson: When you're out to conquer the world of business, be ready to pivot hard and fast.
This week, Alibaba, China's huge internet-based, e-commerce business, went public with their IPO. They are expected to raise more than $21 billion. Alibaba plays a big part in daily Chinese life.
What does Alibaba have to do with this week's Grounded Leader? Well, in 2009, Frank Lavin saw the future and that future was Chinese e-commerce. He then made an about-face career move (from diplomacy to business) and jumped into the high-risk-high-reward start-up world.
Lavin served as Ambassador to Singapore from 2001 to 2005. He then headed the International Trade Administration for the United States Department of Commerce from 2005 to 2007. His work at Commerce taught him about the "hard barriers" to trade like tariffs and trade promotion. But he recognized that the "soft barriers" were keeping small and mid-tier American companies from selling their products in China. Daily operations of a business, like hiring or renting office space, pose as big a barrier to the huge Chinese market as tariffs would. That's when the diplomat made the decision to become a start-up entrepreneur. In 2012, he raised $5 million in seed money from family and friends and launched the e-commerce site, Export Now. It's intent is to provide a low-cost way for American small businesses to sell their goods in China.
After many bumps in the road, Export Now is poised to take advantage of the media spotlight that is shining on Alibaba's IPO. American business' awareness of the size of the Chinese e-commerce market is growing rapidly, thanks to Alibaba. And Lavin has the combination of credentials, language, and experience that make him uniquely positioned to lead and advise American businesses wanting to operate in China. He also has what the Chinese call guanxi, loosely translated as "connections."
While advising clients to do their homework and be adaptable when doing business in China, it is not lost on Lavin that he needs to do the same thing. He readily admits that he had to adapt and pivot to changing conditions to grow his new start-up. Lavin told the New York Times when Export Now's department store business model was non-inviting (or even off-putting) to serious brands, he moved quickly to change the model. Today, Export Now's growing client roster includes names like NFL, Guitar Center and Totes.
Lavin long ago earned the respect of his diplomatic colleagues. The Office of the Inspector General of the Department of State describes him as "a strong leader with a high degree of intellectual curiosity who wants to be kept well-briefed by all agencies, and yet lets people do their jobs without micromanaging."  Today he is earning his stripes in the online business world helping American business break into China.
Frank Lavin is our Grounded Leader of the Week for his adaptability, curiosity and his ability to foster productive relationships on a global scale.
Q&A with Ambassador Lavin
httpv://youtu.be/6oPpwk7h8d0