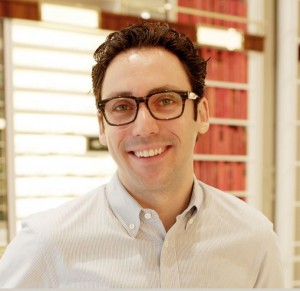 Key Lesson: Be a rebel with a cause and you may just disrupt an industry. Doing good does make you happy.
When Google Glass needed a fashion makeover last year, who did they call? The new hipsters in eye wear – Warby Parker.  Google couldn't resist the company's combination of benefit corporation status, Wharton start-up, and Fashion Ave savvy. Just this month, Google announced it will be following Warby Parker's business model of "try before you buy" for potential Google Glass customers.
Neil Blumenthal, Warby Parker's founder and co-CEO, is the driving force behind the company's vision and its unique place in the eyewear industry. He is a cause marketer "extraordinaire" because of his personal experience and authenticity.
Blumenthal and three friends incubated their company while in business school. Blumenthal's previous experience working in El Salvador for VisionSpring, a non-profit offering affordable access to eyewear to those in need around the world, served as the inspiration for creating Warby Parker. At Vision Spring, he learned that glasses can change lives, but only if they looked good (style means something even in the poorest villages on the planet) and that realization got him and his friends interested in disrupting an industry. Today, Warby Parker's vintage-inspired frames sell for $95, well below brand name frames. And, for every pair of specs sold, Warby Parker donates a pair to VisionSpring.  The two organizations have partnered to make a meaningful dent in the 700 million people worldwide who need glasses.
Named one of the most creative people of 2012 by Fast Company, Blumenthal regularly shares his beliefs about how to run a business. In a recent blog post on HuffPost's Third Metric, he talks about how he and his partners wanted to build an organization that got them excited to go to work every day. A business where they can make a real difference and impact the world. He cites their "Buy a Pair, Give a Pair" program as a concrete example of this ethos. His advice to other businesses: Make giving a habit and it won't become an abstraction when day-to-day business life takes its toll.
This week our Grounded Leader is Neil Blumenthal in recognition of his generosity of spirit and authenticity, and for creating a company that solves a social problem while awakening people's passions and sense of meaning.
A personal conversation
httpv://youtu.be/ZzWIYIX1UCA
A presentation
httpv://youtu.be/7BFLO6RTr9o