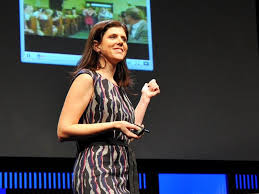 Key Lesson: Having a higher purpose — pursuing something beyond your personal needs and aspirations — helps you connect with the world and make lasting contributions that improve people's lives.
Here are types of questions that keep Margaret Gould Stewart up at night:
"How do we get software fully past the age of ugly into the age of delight?"
"How do we design user experiences that change the world in fundamental ways?"
As Director of Product Design at Facebook, it's Stewart's job to grapple with these questions. She understands the importance of coming up with the right answers as well as the impact those answers can have. Facebook's LIKE button, for example, is one of Stewart's design innovations and literally touches billions of lives each day. It is seen and used 22 billion times on a daily basis and appears on over 7 million web sites around the world. As a result, it's one of the world's single most-seen design elements and has impacted the way billions of people interact with each other.
There is no instruction manual for creating user experiences on this scale, and Stewart is a leader in crafting the design principles essential to developing experiences for such vast populations of users. As a large-scale designer, her work requires a combination of audacity and humility. To be successful in this endeavor, you need an unwavering focus on the user, on the people you are designing for and how it might help them lead better lives.  This is the higher purpose. To lose that purpose, is to lose your way.
This week our Grounded Leader is Margaret Gould Stewart for demonstrating vocational and spiritual health — and for showing the world that commitment to a higher purpose and global connectedness does make good business sense.
httpv://youtu.be/3XtiiHDRDMk