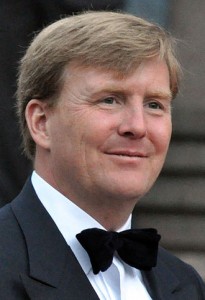 Key Lesson: Even infrastructure can be sexy and exciting.
This week's Grounded Leader certainly has eclectic interests. King Willem-Alexander of the Netherlands loves sports, international water management issues and infrastructure. He has long been involved in global water issues working with the UN and the Global Water Partnership. In 1998, he became a member of the International Olympic Committee, resigning only upon becoming King in 2013. And since his coronation, the palace has reflected his dynamism, becoming "infused with an openness and easy-going attitude unthinkable under the 33-year reign of his mother."  Though Willem-Alexander understands the need to provide stability in his new role, he acknowledges that he's "not a protocol fetishist" and wants people to call him "whatever they want and are comfortable with."
The laid back monarch has been quoted as saying "if you are careful about choosing which ribbons to cut, these choices can have real substance."  This week, Willem-Alexander has decided to cut the ribbon at the world's largest refinery for turning corn plant waste into ethanol. In keeping with his down to earth image, he traveled to the decidedly common environs of  Iowa to support the opening of Project Liberty, operated by ethanol producer POET and Royal DSM, the $13 billion Dutch diversified food and consumer products conglomerate. Cellulosic ethanol is a transformational new way to produce ethanol, a renewable but wasteful fuel source. Once considered a fantasy technology (only achieved by nature in the stomach of cows and other ruminants), making cellulosic ethanol is now a viable business option. This week's ribbon cutting represents the launch of a transformational green technology that significantly increases the yield of ethanol with almost zero waste.
Clearly, King Willem-Alexander's broad ranging interests stem from his commitment to Dutch society. He is hoping to host the 2028 Summer Olympics to celebrate the 100th anniversary of the 1928 Amsterdam Olympics. Promotion and support of Dutch business is on his agenda throughout his world travels. While on his one day visit to the United States, he took time to meet with Dutch and American entrepreneurs in Minneapolis, MN to discuss trade and economic opportunities. As the consequences of climate change impact The Netherlands' safety and security, Willem-Alexander has ramped up his activities in the areas of water management, agriculture and sustainable energy.  He is well aware of the interconnectedness of these sectors for his country and the world.
King Willem-Alexander is our Grounded Leader of the Week for his humble and practical leadership of his country and the world toward a bio-renewable future. His long range vision and commitment to the people of The Netherlands is shaping their continued prosperity as well as a profitable and sustainable future.
httpv://youtu.be/KVCt79L_BnA