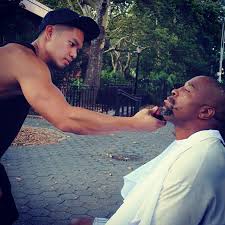 Key Lesson:  Sometimes simple gestures can have huge impact.
When we talk about the roots of grounded leadership at Healthy Companies, we always emphasize the integrated and holistic nature of our leadership paradigm. This week's Grounded Leader, Mark Bustos, understands the interconnections that simple actions can create in the world. Bustos is a stylist at Three Squares Studio, one of Manhattan's trendiest salons. When he's not attending to his celebrity clientele, Bustos can often be found giving free haircuts to the homeless on the city's streets.
The idea of giving free haircuts came to him while visiting family in the Philippines. Taken aback by the country's poverty, he and his girlfriend rented an empty barber shop and started giving free haircuts to the neighborhood kids. "It made me feel so good," confides Bustos, that when they returned to New York, he continued the practice. Each time Bustos meets a new client on the street, he offers to get them something to eat and then asks them what they'd like to have. It's not a question they hear often, and most of them are deeply appreciative. While he might be surrounded by sports and entertainment elite at work all day, Bustos says "it's important to give back to those who need it the most."
And giving back, in this case, goes beyond the haircut itself. In a recent New York Times profile, Bustos said:  "We all know what it feels like to get a good haircut." So we can all understand how transformative a good cut can be, and the homeless are no exception. Reactions to their new looks range from "Yeah baby, I've still got it" to "I'm ready to get a job." The haircuts connect them with who they are, and offer them a glimpse of who they can become. "Just because they live on the street looking a little scruffy with their hair long doesn't mean they can't clean up and look great," says Bustos.
Bustos likes to work in public spaces "so people who walk by can find some inspiration" in what he's doing. "People ask me if I can come out with you or join your team. My answer is just go and do it," he says. He adds:  "I feel like I've started this movement around the nation where you find people in all different cities and states doing the exact same thing. And that's what it's all about. It's not about creating my own individual team, it's about being just a family and united all around." Bustos also shares his inspiration online, posting before-and-after photos of clients to his Instagram feed.
Mark Bustos is our Grounded Leader of the Week for bringing his skill as a stylist to those who just may need it the most, and for inspiring others with his generosity of spirit and consideration for others.