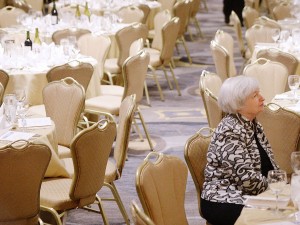 Key Lesson: Make time for thoughtful reflection. You may need to be opportunistic — like Yellen at the White House Correspondents Gala — to find the time in your busy day. But this is real leadership work.
Our Grounded Leader this week is one of the most watched women in the world. Which explains why this picture of her  — staring into space while waiting for the 2014 White House Correspondent's Gala in Washington, DC to begin — trended on Twitter and made the rounds in business media outlets. Janet Yellen, arguably one of the most powerful women in the world, takes a quiet moment, clearly feeling totally comfortable reflecting, thinking. Yellen has been referred to by her peers as "the curious enigma." She continues to live up to this descriptor.
Yellen is the new Federal Reserve Chair. Last week at the Jackson Hole central banking summit, she made it clear the Fed's new role is to watch the behavior of the nation's financial sector.  What everyone is watching is how she will wield her new power. While the business press repeatedly refers to her as a mystery, as a grounded leader, the one thing you can count on her doing is bringing thoughtful reflection to challenging situations. She will not turn to simple recipes to solve complex leadership problems.
Yellen exemplifies how a leader utilizes her intellectual health. She has mastered her craft, elbowing her way to the top of a male-dominated discipline while also being a wife and mother. Today, she is able to calculate the soft and hard sides of economics, the micro and macro implications of decisions, trying to balance the needs of Main Street and the demands of Wall Street.
Janet Yellen is our Grounded Leader of the Week because of her deep curiosity about her work, her adaptive mind, her commitment to continuous learning, and her willingness to acknowledge the complexity of interconnectedness. And she is doing this as she navigates the political and financial storms of today's world economy.
httpv://youtu.be/rfAg3BJCC1c