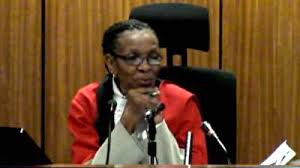 Key Lesson:  When others' emotions are running high, separate yourself from the surrounding frenzy and focus only on what matters. 
The Pistorius Murder trial has been a marathon, and with cameras focused on her from the outset, she has been catapulted from relative obscurity to a global symbol of South African justice. Thokozile Matilda Masipa is the woman who ruled Oscar Pistorius not guilty of premeditated murder, but guilty of culpable homicide. Since there are no jury trials in South Africa, Judge Masipa must render verdicts on her own, and comments on Twitter (#Masipa, #OscarTrial) show the Pistorius ruling getting plenty of criticism.  But our Grounded Leader this week is certainly unafraid of controversy.
Inscrutable, impassive, tough, and intelligent are just a few of the adjectives used to describe Masipa. A trailblazer for most of her life, she was originally appointed to the bench by Nelson Mandela in 1998 and is only the second black woman ever appointed to the High Court in South Africa. It's important to note that her appointment by Mandela came just four years after South Africa's first democratic election. As result, Masipa has been a key player in that country's transformation.
Masipa's long career is impressive. Her successful stints as social worker, journalist, and attorney prepared her well for the job of superior court judge – and especially for the job of presiding over such a sensational and highly charged murder trial. Respected by her peers, and feared by those who find themselves sitting in her court as offenders, Masipa's combination of personal strength, grit, compassion, hard work and meticulous preparation makes her very qualified to be judge and jury.
The judge is very aware of her formal position as well as the role she is playing in a changing world. She was once quoted saying:
"It is a tough place to be, because for a long time it was only men who sat here, and in our culture it's even tougher, because some men are just not used to seeing women giving orders. But one gets used to it. It's not you as a woman who's there – it's the position that you fill. So you just get on with it."
Judge Masipa is grace under pressure epitomized. While her ability to remain calm and collected even in times of social unrest has caused her to be criticized as "out of her depth" and "intimidated [by the cameras]", she is being precise and paying close attention to details others might miss because of distractions from the controversy of the case.
An old friend of Masipa's told  CNN, "If you look at where she came from and where she ended up – she knew one day we would be there and (asked herself) 'Will I be ready when we get there?' It's hard for outsiders to see the magnitude of the symbolism of Masipa presiding over this trial… This is a woman from the dusty streets of the township. Today she is trying a white boy in my lifetime …"
Thokozile Matilda Masipa is our Grounded Leader of the Week for her tenacious pursuit of justice while remaining graceful under pressure from her position, the court, the country, and the world.

httpv://youtu.be/ye-rRFHKZ1o
httpv://youtu.be/6rT85-zhnWY