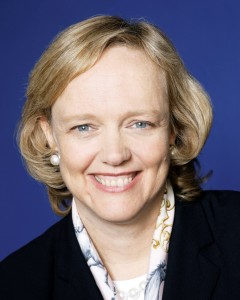 Key Lesson: Changing direction from what was once the proven route is often necessary, but never easy. Being adaptable and able to navigate the currents of change will enable you to lead others to success.
Our Grounded Leader of the week, Meg Whitman – Chairman, President, and Chief Executive Officer of Hewlett-Packard – surprised the world with the news that she would be splitting HP into two separate companies. The idea is not new; it has been thrown around often through the years, but met with mixed reviews – even from Ms. Whitman herself.
While the decision to break apart an iconic company touted as the beginner of Silicon Valley has been both lauded and doubted, it doesn't surprise those who have worked with Whitman in the past. It is no secret that Meg Whitman is a leader unafraid to take risks. In her tenure as CEO of EBay, she led the company to purchase Skype, and PayPal. While these purchases initially failed to produce results, they have steadily grown over the years and become globally recognized companies.
With an adaptable mindset and an ability to stand tall through the tough times, Meg Whitman has a record of ultimately turning losses into wins for the companies she's worked with. Even though she had originally intended to keep HP together, she is no stranger to change.
With three years as HP's CEO, she has spear-headed many projects to improve the company. With a recent move into the position of Chairman of the Board in addition to her current positions, she knows the world will be watching her and the two new companies she will continue to oversee.
There are always risks to such drastic changes, but with a leader like Whitman, there is a high chance it will succeed. As leaders cannot focus solely on short term goals, those in such positions must think big-picture and give direction to an organization in flux. Meg Whitman is our Grounded Leader of the Week for her adaptability, creativity, and fearlessness in the face of failure. Changing direction mid-journey is not easy, but is often a requirement. Not many are up to the task, but Ms. Whitman has proven herself willing and able.