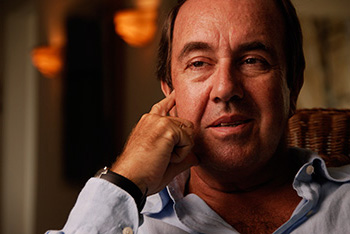 When he was twenty-three, the plane carrying Nando Parrado and his rugby teammates crashed in the Andes Mountains. Seventy-two days later, survivors of the crash were rescued from the wilderness after Parrado and a teammate trekked the dangerous mountains to find help.
Not surprisingly, the group's survival created a sensation around the world, spawning a bestselling book, Alive: The Story of the Andes Survivors and a collection of feature films and documentaries. Much of the story is known, including Parrado's own role, which he wrote about in his book Miracle in the Andes.
Because his mother and sister had also been killed in the crash, Parrado had to overcome his own sense of loss – as well as his fears – in order to bring himself and his teammates to safety. A crisis can alter a person, and not always for the better. In Parrado's case, the crisis instilled an enduring self-confidence, and a belief that he can overcome even the worst of times.
In spite of the tragic loss of his family and friends, Parrado has also never forgotten how vital the bonds of family and friendship are to him. Rather than becoming cold and distant, and keeping love out of his life, he did the opposite.
Today, his leadership is rooted not only in a belief in himself but also in the positive emotions that he shares so freely. To be sure, Parrado demonstrates mastery of many leadership dimensions, especially physical, social, and spiritual health. His real strength, though, is his commanding sense of emotional health, and his understanding of the importance of positive emotions. As he puts it:
"I was lucky enough to find out at a very early age what the important things in life are."
As a survivor and successful businessman, Parrado acknowledges the value of love and the role it plays in every facet of his life—even his work life. The four tenets of his guiding philosophy – born during those difficult days high in the Andes – are good touchstones for all of us:
Don't be afraid
Live in the moment
Never stop changing
Follow your heart
Parrado understands that the ability to share and accept love makes him a better person and, of course, a better leader. He notes that he often bases business and hiring decisions on his intuition and his "heart." As he puts it: "I am a believer in giving the best, receiving the best, and sharing things with people."