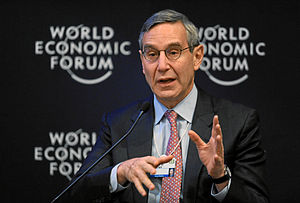 Key Lesson: Be and act truthful. Keep your promises. Guard against the "Big Boss Disease" and engage with employees and customers.
The job of this week's Grounded Leader is to measure how badly (or how well) business leaders garner trust.  The 2014 Edelman Trust Barometer results are not so healthy: Only one in four people surveyed trust business leaders to address and correct problems. And even fewer – one in five – think they'll tell the truth and make ethical and moral decisions.
Richard Edelman is the president and CEO of the world's largest public relations firm, Edelman. It's not often you see a headline for a top spin doctor say "A PR guy we can trust."  But Edelman is recognized by the business community as a thought leader and a social media pioneer in public relations. He walks the talk about building trust, being transparent and engaging with customers and employees. Since 2004, Edelman posts weekly to his 6 A.M. blog, often taking controversial positions, yet also sharing his life as a CEO and father. He is a global cheerleader for truth and transparency in leadership.
This week our Grounded Leader is Richard Edelman for his relentless focus on improving the social health of global leaders.  Through creating authentic, mutually rewarding relationships with these leaders his influence is being felt throughout the business world as CEOs and government leaders rise to the challenge of transparency and engagement.
Richard Edelman describes trust
httpv://youtu.be/CCHHeF8Dl2o
The Story of Trust 2013