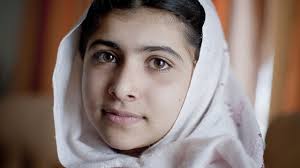 Key Lesson:  Self-Awareness is foundational to great leadership. Knowing — and remembering — who you are will take you far. 
Selecting our Grounded Leader of the Year is usually a time-consuming task. This year, however, the Healthy Companies team reached a consensus pretty quickly. The story of Malala Yousafzai's life is well known to most people. Her activism on behalf of education for girls and her survival of an assassination attempt in her native Pakistan are studies in personal commitment and resilience. The recipient of many accolades and awards, Malala is also the youngest-ever Nobel Peace Prize laureate.
But what impresses us most about Malala is her sense of self, and her awareness that maintaining this sense of self matters. The trajectory of her young life has taken her from the quiet, bucolic Swat region of Pakistan to world centers of power and politics. The perils of that path are clear to her:  "In Swat…I was just considered to be Malala. Here, I'm famous…The real Malala is gone somewhere and I can't find her."
On some level, that's a heartbreaking thing to hear, but Malala is quick to offer up reassuring insights about herself and about life in general. On her attacker:  "That boy who shot me, I can't imagine hurting him even with a needle. I believe in peace. I believe in mercy." On wearing a burqa:  "I don't cover my face because I want to show my identity." And, ultimately, on what guides her:  "God has given us a brain and a heart which tell us how to live." In short, Malala may wonder where the young girl from Swat has gone, but she knows precisely who Malala is today.
Malala Yousafzai is our Grounded Leader of the Year for her unflagging work in support of education for all — and for the inspiration she provides as she projects her strong sense of self and her resilience on the world stage.