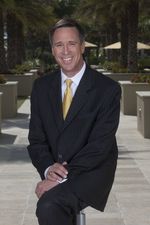 Key Lesson: If you want to be an extraordinary leader, then stretch yourself. Continue to learn, to expand your mindset, to share with others and to think globally.
The world of hospitality is a 24/7 business. It's a business of taking care of people. And it is a global business. Arne Sorenson, CEO of Marriott International, is a lawyer, businessman, and, most importantly, a global citizen who is comfortable interacting with diverse communities of customers, co-workers and competitors from around the world.
Sorenson's childhood experiences of living in a foreign country and spending time in a war zone clearly shaped his thinking and beliefs about the world as a single community. This experience prepared him well for running a global company with thousands of lodging properties and operations in more than 70 countries and territories.
Sorenson makes a habit of giving back to his employees, shareholders and customers, and he regularly takes time to share leadership and life lessons with all of us. As a LinkedIn Influencer, Sorenson blogs about his work experience, his leadership challenges and his advice to future global leaders. Sorenson's says the best advice he ever got was "… there is no better advice you can give or receive than to explore the world. The further you get from what is familiar to you the more you'll learn." He goes on to say "My hosts showed me that joy can thrive even in difficult circumstances. They also taught me a lesson I would come back to many times in the years after: that a genuine welcome is one of life's greatest gifts." It's not a stretch to say that Sorenson's life lesson in war torn Beirut activated his awareness that all people deserve and want genuine hospitality.
This week our Grounded Leader is Marriott International's CEO, Arne Sorenson. He brings to his job a global vision and understanding of the value of mutually rewarding cross-cultural relationships.
httpv://youtu.be/w8IMaZtgxs4