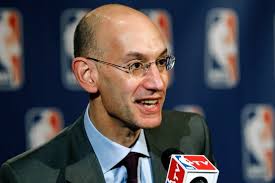 Key Lesson: Be prepared to hit the ground running. Rely on your speed and agility to make decisions on many fronts – not just financial decisions.
The honeymoon is certainly over for Adam Silver, commissioner of the National Basketball Association. He closed out his first 90-days on-the-job with a huge leadership test:
How to respond to the controversial remarks about African-Americans from Los Angeles Clippers owner, Donald Sterling?
Today's leaders get tested on their ability to make timely, quality decisions at a faster and faster pace. Societal demand for more transparency makes it almost impossible for leaders not to respond and take action against bad corporate behavior. Behavior, that perhaps in the past, was easier to veil. Speed and agility – the ability to navigate the crashing waves of change while maneuvering quickly to a safe harbor  – is no longer reserved for crisis managers. Leaders are being buffeted from every direction, every day.
This week, NBA's Silver stepped up quickly and took action, even sharing his personal outrage about the Clippers owner's remarks. His quick action all but eliminated backlash from fans, players, sponsors and other NBA owners. His decision reflects on him as a person, as well as a leader. While debate and outrage continue through the media and social media, Silver is getting kudos for making a difficult decision and taking a bold stance.
Banning on ethical grounds is not unprecedented in sports. Kenesaw Mountain Landis, the first Commissioner of Baseball, faced a similar challenge after the 1919 World Series Black Sox Scandal. Landis invoked an indefinite ban for the eight players who, although acquitted of wrong doing in the court, were publicly viewed as culpable for the fix in the throwing of the games. Landis responded to longstanding discontent over poor governance of the league and moved quickly to disregard the court's acquittal and do the right thing.  Like Landis, Silver opted to take the challenge head on and demonstrate moral and ethical leadership at a crucial moment for the NBA.
This week our Grounded Leader is Adam Silver in recognition of his ability to swiftly assess and act with clarity, confidence and responsibility when confronted with a moral crisis.
httpv://youtu.be/vHCgmVikntw