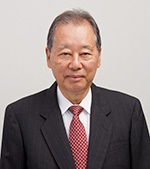 Benesse means "well-being" in Japanese. It is also the name of one of the world's largest education and lifestyle companies.  Benesse is a people-oriented company with a mission to help others find greater enjoyment in life. They do this through their global education businesses, including the innovative Berlitz network of language schools, their women and infants well-being initiatives, as well as their creative approach to nursing and elder care.  The company's guiding principles:  Act sincerely. Build trust. Pursue challenges and innovation.
Soichiro Fukutake is Director and Chairman of Benesse Holdings. Under his leadership, the people of Benesse are fulfilling their mission to help others while pursuing growth both globally and in Japan. While Fukutake is listed on Forbes World's Billionaires, his generosity of spirit extends well beyond financial philantropy — showing that he practices what he preaches.  He is a great supporter of the arts and culture in Japan, launching Fukutake Education and Culture Foundation. Based on his belief that "the economy should be a servant to culture" he envisions a 21st century where society creates communities "where growing older means growing happier."
Fukutake embodies all the elements of spiritual health – higher purpose, global connectedness, generosity of spirit. This is why he is our Grounded Leader of the Week.