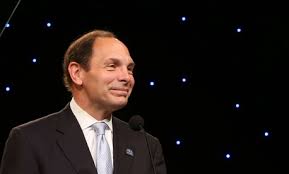 Key Lesson:  Returning to the basics is often the best way to move an organization forward.
In honor of Veteran's Day, this week's Grounded Leader is someone we've long admired both for his business acumen and for his commitment to touching and improving individual lives. Reflecting on his success leading the iconic consumer products company Procter & Gamble, Bob McDonald once told our CEO, Bob Rosen:  "Becoming a CEO is not success. Doing something with the job as CEO and improving others' lives, that's success." (Grounded: How Leaders Stay Rooted In An Uncertain World, 2014)
So, we weren't surprised when McDonald was asked by President Obama to take the helm of the Veteran's Administration following a series of scandals earlier this year. In his short tenure, McDonald has acted quickly to refocus the VA's attention on their customers — U.S. veterans. He has acted swiftly to create the role of Chief Customer Service Officer to track and improve veterans' experiences, and has established a common framework for all VA regions as well as local Community Veteran Advisory Councils. Under his direction, the agency has also initiated disciplinary action against 5,000 of their employees. McDonald told NPR that he anticipates 1,000 dismissals as a result of those investigations. It's an important step toward holding people accountable for past missteps while also raising the bar for future performance. Through all of these changes, McDonald's message has been simple:  "We need to put care for the veteran at the center of everything that we do at Veterans Affairs."
Beyond a renewed focus on the customer, McDonald also understands the need to return to the basics around personal leadership — and that's something that's often forgotten these days. When asked about the challenge of recruiting much needed medical personnel to the VA, he responded that "to me, the only answer is personal initiative and personal leadership." Acknowledging that he can't personally recruit the needed personnel, he does understand the role he needs to play:  "I can reset the tone…So I have to get out there. And I've got to tell the positive stories about what the VA does."
Bob McDonald is our Grounded Leader of the Week for his unwavering commitment to improving lives, and for his advocacy of personal leadership and responsibility. Our nation's veterans could not be in better hands.